Whether searching for representation with a Boston Modeling Agency, or an NYC Modeling Agency, or looking to develop your work with modeling agencies as a photographer, there are certain steps you can take in building your portfolio to maximize your appeal. The following guide is for models and photographers that are looking to work with a modeling agency.  Please note:  this information is what I have learned as a photographer, and will not necessarily be applicable for every agency in every market.  I do not work for any modeling agencies.
Part I: Understanding the Agency "Look" and Why It Is Important
First and foremost, modeling agencies want to see images that represent the model, not the skill of the photographer, or the talents of the hair and makeup artist. At its core, the model's portfolio should have approximately 15 images that are true to the model's actual appearance. For models, this means your makeup will be natural, and your clothes will be simple. For photographers, this means images that employ lighting in ways that focus on the model, not on your ability to use a dozen lights. Yes, the photographer and team must be extremely skilled, but they should employ their talents in ways that conceal their presence. The photographer's lighting and makeup artist's application should highlight the natural beauty of the model, not transform it.  According to Jordan Morris, Men's Director at Frame Models, NYC, "The biggest mistake with amateur portfolios is including too many pictures with excessive makeup, styling, and/or editing.  Generally speaking, agents (and clients) want to see what you really look like… keep it clean and simple."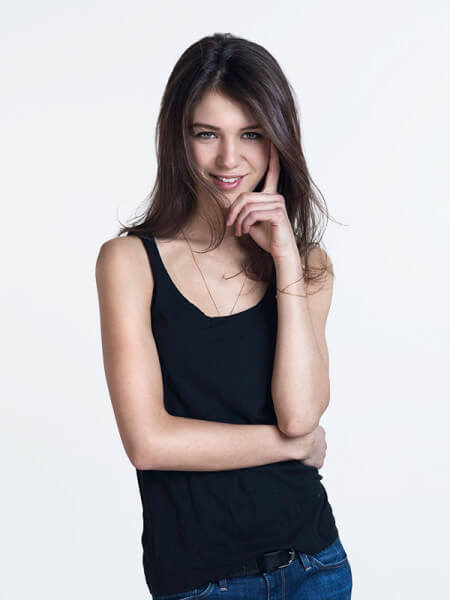 Look at the above image of Daniela, signed with Click Model Management. She wears a black tank top with basic denim. Her makeup is simple and her hair, though styled, looks natural. The lighting is fairly even, with a main light and fill against a white background. When you look at this image, you see her, not my presence as photographer, and not her clothes. Everything about the image is manufactured to present a blank slate to the viewer, in this case a modeling agency, and eventually, a client. As such, it allows for the viewer/client to imagine Daniela in their clothes, or wearing their jewelry, etc. The image lets the viewer create his or her own story, and to see Daniela for what she is: a model who is available to be hired. Always remember, the agency will offer representation based on the model's perceived or demonstrated ability to earn money in a specific market.
Recap:
Model: Bring basic clothes to the shoot that do not distract from his or her natural beauty.
Hair and Makeup Artist: Focus on natural makeup that enhances the model's true facial structure, and use as little makeup as possible.
Photographer: Use lighting that flatters the model, without overwhelming the viewer.
All: Create an image that presents the model as marketable
Stay tuned for Part II
As always, to learn more and book a model development session, click here.
All images ©Anthony Grassetti Photography, LLC.