Entering Goldwell Color Zoom Hair Competition
Finding a Goldwell Color Zoom photographer may seem daunting, but selecting an experienced professional will make your Color Zoom entry seamless, efficient, and enjoyable.
The following information is in no way affiliated with KAO or Goldwell. This is information gained from years of personal experience in photographing Color Zoom entries. Please consult the color zoom website for full instructions and regulations regarding the competition.
About Me
I have had the privilege of photographing entries for Color Zoom for the past consecutive 4 years, and am honored to have had multiple entries place as finalists, with Rachel Aidan's entry taking Gold for USA. In 2015, I was hired by KAO/Goldwell to shoot the entries at their New England Color Zoom seminar, working closely with Derrick Zeno (Color Zoom 2013 winner) throughout the year. You may view examples of my work here.
The Breakdown
In order to make the process a little less overwhelming, I have broken down the steps necessary to complete your Color Zoom entry.

1) Study Goldwell's Color Zoom trend/collection.
Each year, a new trend is released by Goldwell that defines the look and feel of the competition. You should carefully study the materials and be sure your work is representative of their collection.
2) Plan your color story.
This aspect of the process must really be done in consultation with hair professionals, as I am not qualified to discuss the details at length. Just be sure you have a definitive perspective that you are trying to demonstrate through hair color. Only the best can win!
3) Select a model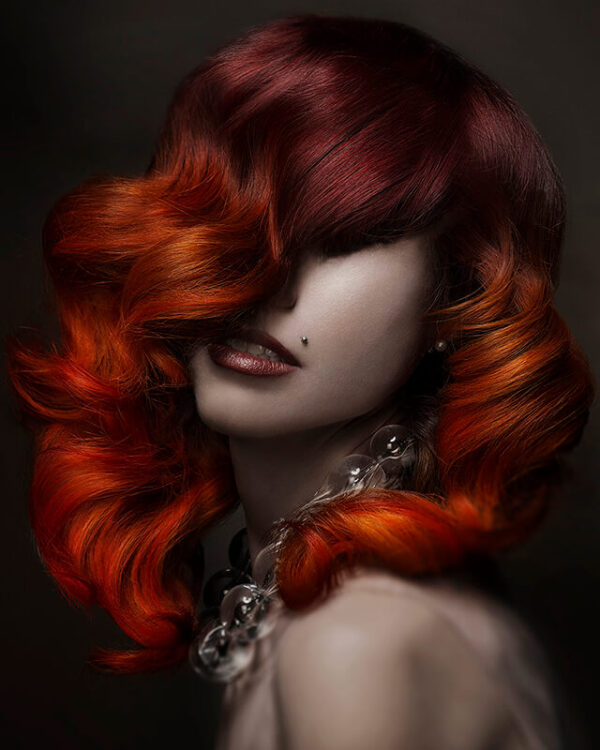 I cannot stress enough how important model selection is in creating a winning Color Zoom entry! As a stylist, you have to worry about cut, color, styling, etc. The last thing you need to worry about is coaching your model on how to make a decent face or how to use her angles. Hiring a professional model will improve the overall look of the image exponentially. Yes, the most important aspect of the image is the hair, but the model has to sell it!
Rather than look for a "sexy" model, try to find models with strong, angular features. Though beauty comes in all shapes and sizes, for hair photography "pretty" faces are less compelling than sharp, dramatic faces.
Depending on your location, there may be modeling agencies nearby that you can contact. You'll want to make clear that the model must be willing to have their hair cut and colored. Unfortunately, many agency models will be unwilling to change their hair. Expect to pay for "half day" (4 hours) rates with agency models, generally around $250- $500 depending on the model and agency. Be sure to explain that the image will be used for competition, not for selling a product or advertising, as this will result in lower costs. If you can not afford an agency model, don't panic!
Another good resource is ModelMayhem.com This website features many more alternative models, who are often more willing to experiment with their hair cut and color. You can expect these models to have pre-established hourly rates, while some will be interested in working on a TFP basis. TFP stands for "trade for print," and essentially means that the model is interested in lending her services free of charge, in the interest of creative expression or exposure opportunities. It is important to not view TFP as a chance to exploit free labor from models, so you want to be clear about the competition, its potential benefits, and mutual expectations.
Be clear to your models that they must keep the images secret, and must not drastically change their hair length between the photo shoot and reveal of the finalists.
Please be wary of selecting a model simply based on the fact that you know them and already style their hair. You are competing against the world! This is no time to skimp or take shortcuts.
4) Select a makeup artist
Try and find a makeup artist with editorial beauty experience. Wedding makeup artists are of course talented, but often are not ideal for this type of fashion oriented image.   Look at the makeup artist's portfolio carefully! Study the makeup of past winners, and in particular, the makeup used in this years Color Zoom look book.
5) Select a photographer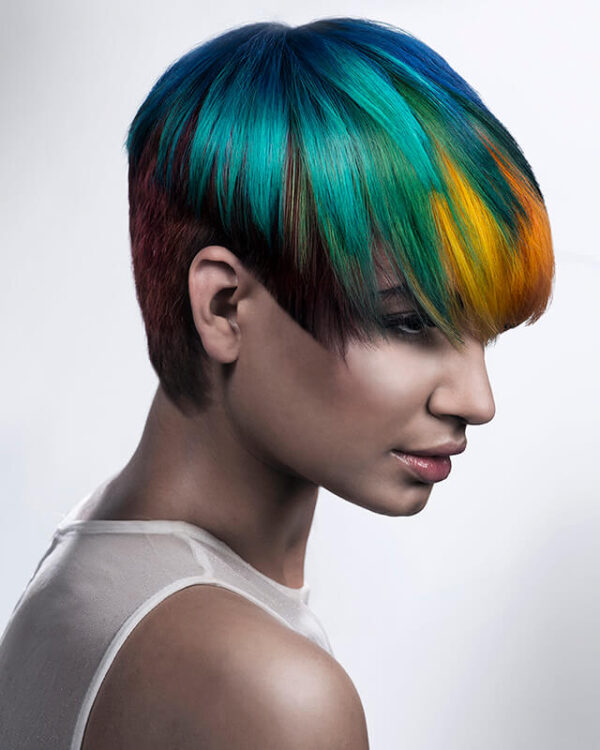 Of course, I recommend myself, but be sure to select a photographer who has experience in photographing hair, beauty, and has an eye for light! Expect this to be a significant portion of your total investment in the project. Review their portfolios carefully, and ask to see examples of their hair work! A photographer is only as good as their worst image, so make sure they are up to the task.
6) Select clothes/accessories/style the model
In an ideal world, you would have the resources to hire a stylist to dress the model in wardrobe appropriate to the Color Zoom trend. As this is not always possible, study the Goldwell look-book very carefully! You needn't copy the model's fashion directly, but it would be a good idea to keep your clothing choices on trend.
7) Prepare the model
Coordinate with your photographer when you will shoot. Often, I arrive at a stylist's salon in the morning while they are applying color, and shoot the image later that day. Any pre-prep, color stripping, etc is done days before. Try not to apply your color well before the date of the shoot, as it is likely to fade.
8) Shoot the hair
You and the photographer will shoot the image. After every Color Zoom shoot, without fail, the stylist tells me that it was easier and more fun than they expected. I completely understand that hiring a professional photographer, model, makeup artist and displaying your work in front of everyone can be extremely intimidating. I can assure you, however, that the shoot is fun, creative, and rewarding. I can't speak for other photographers, but I make it a point to make the stylist comfortable with the shoot, which is one of the reasons I am creating this blog post! I believe if you know exactly what to expect, it will remove a great deal of anxiety.
Generally, the shoot will either take place in a photographic studio, or the photographer will bring lights and set up a small studio space within your salon. If this is the case, you'll want to schedule the shoot on a day the salon is closed. If you're not the owner of the salon, talk to the manager about using the space as the project is for creative enrichment, and can create a lot of buzz for the salon. Likely the owner is already on board, however. If you travel to a photographic studio, you will be allotted time before photographer to prep and style your model, but all the color should already be completed.
After several years of experience, I have determined shooting within the salon is the easiest option, and I would recommend pursuing that if possible.
As for the shoot itself, it is usually surprisingly fast. After hours and hours of color work, this is your time to let the photographer do the work. It is helpful for you to give input as to what you would like to achieve with the images, but hopefully you and the photographer have fully discussed this beforehand. If you have a qualified model, they will need very little instruction and the shoot will operate smoothly. This is the point where hiring a great photographer, model, and makeup artist will really demonstrate its worth! Often the actual photography will take less than 30 minutes per look/style, but it would be wise to not have any time restrictions set up if possible.
As a hair stylist, you naturally consider your client's hair in 3 dimensions. As a photographic hair competition, you must consider that the image you submit will be a 2-dimensional representation of your color story. Last year, while working alongside Derrick Zeno at a Goldwell Color Zoom workshop in Connecticut, many stylists wanted me to somehow photograph all angles their model's hair simultaneously. For example, one stylist had amazing color in her model's bangs, with a complementary color toward the crown. Though this looked great in person, it was impossible to photograph both the front and back of her model's hair at the same time. Although winner's will compete and be judged in person, and thus their models will be viewed 3-dimensionally, you must first get to that point with a winning 2-dimensional image of your color story! Therefore, be sure to remember you can only submit one image, with one angle.
9) Photographer prepares the image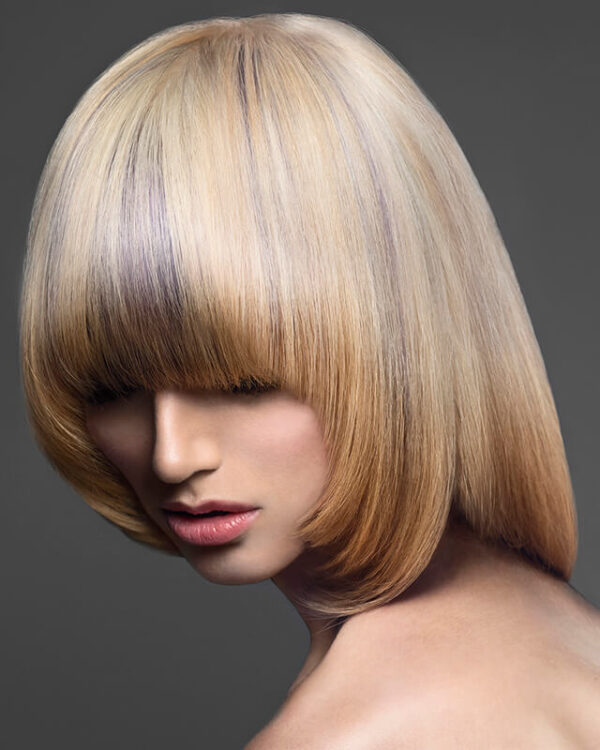 After the shoot, the photographer will sort through the images and likely (hopefully) send you a PDF with their favorite images from which you can choose one for her/him to edit. This is an incredibly difficult task, as you can only choose one!  Once you select your image, the photographer will begin the retouching process.
As a showcase of your hair coloring talents, the rules state clearly that no alteration of hair color is permitted. Any major retouching of the styling is similarly forbidden. In other words, the hair must be perfect in real life! As for the overall image, it will be fully retouched to industry beauty standards. The image will be worthy of publication in any hair or beauty magazine. The model's skin will be fully retouched. All flaws and distractions will be removed, so that your beautiful work can be observed at its greatest potential. With this being said, the retouching process is lengthy, and extensive. As such, the shoot must be completed with adequate time before the submission deadline.
Check out previous winners on Goldwell's website, the images are stunning!
For full rules and regulations, please visit here.
10) Submit the image and wait for the results!
The photographer will supply you with a properly formatted image for you to submit. It will be up to you to follow the rules closely and supply any additional paperwork and documentation needed.